Neuro Linguistic Programming(NLP)in relationship – 改善人际关系沙龙 – NLP Kunming
你的生活质量取决于你的人际关系的质量。

伟大的关系 = 伟大的人生。

The Quality of your life is dependent on the quality of your relationships.

Great relationships = Great life.
想要改善你生活中的每一段关系吗,是一点点的改变还是很大的改变?
来参加这次工作坊吧,去学习如何做到。
在这个沙龙我们将会研究使用NLP来改善我们的关系。这些关系可以是商业、家庭或爱情的。
我们将特别关注提高觉知和意识,因为觉知带来选择。
Want to improve EVERY relationship in your life just a little or a lot?
Come to this introductory workshop to learn how.
This workshop (NLP Kunming Yunnan Province China) we are looking at using NLP to improve our relationships. Relationships could be business, family or romantic.
We will focus specifically on increasing awareness. Awareness leads to choice.
---
时间-when:NLP Kunming
2018年10月15日晚上6点-8点
6-8pm, October 15th, 2018
地点-address:
云南省昆明市五华区新月花园A座1单元3202
Room 3202, unit 1, building A, XinYun garden, wuhua district, Kunming, Yunnan province
什么是NLP:
N(Neuro)指神经系统 ,也意译为身心。指我们的身心素质、结构与状态。
L(Linguistic)是指语言,也指沟通。这指的语言或沟通,都是广义的,这里的"语言"是指你与自己及外界沟通的各种方式。
P(Programming)是程序。它的意思是具体的,步骤清晰的方法。
我们就是通过语言来影响自己与他人的身心。同样,他人也通过语言来影响我们。这个影响的过程,NLP称之为程序。
从诞生到现在,很短的时间内,神经语言程序学(NLP)已经被传递到了世界的每个角落。
理解神经语言程序学(NLP)的最好方法之一是把它看作计算机的操作系统。我们每天都在使用电脑或头脑,但很少想到或知道如何提升或改善我们的思维。学习或应用NLP就像提升自己的思维一样。它能迅速使普通人聪明,聪明的人更聪明。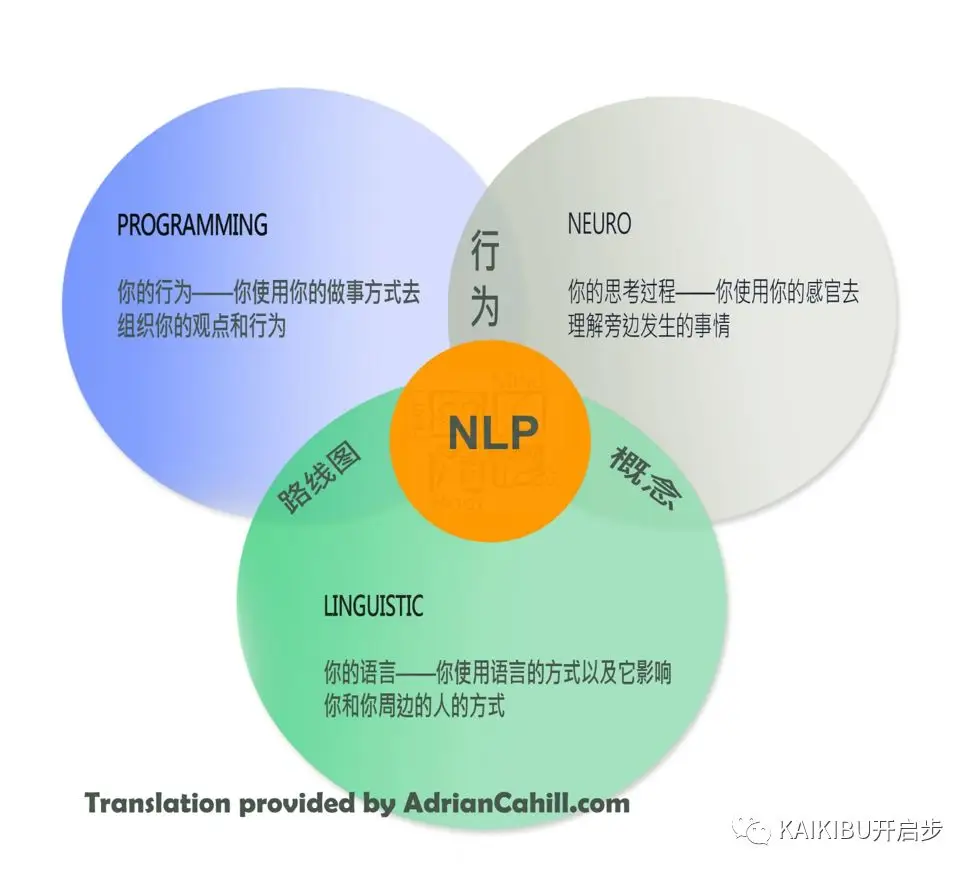 我们都有不同的梦想、目标、抱负、偏好。但不管文化如何,我们都有相同的需求。在我们的习惯和日常生活中,都有一些可以被改进的模式。
NLP可以被视为改善意识和无意识的过程。NLP Kunming
NLP has been carried on the wind to all corners of the earth in the short time it has existed. The initial work by its creators began in the mid – 70's in California and it is still being improved today.
One of the best ways to understand NLP Neuro Linguistic Programming is to think of it like the operating system of a computer. We all use computers or our mind as we go about the day but we rarely think or know how to upgrade or improve our mind. Studying or working with NLP is just like upgrading one's mind. It can rapidly make average people smart and smart people smarter.
We all have different dreams, goals, aspirations, preferences. But regardless of culture we all have the same needs. We all have patterns in our behavior and daily process which can be improved. NLP can be seen as improving ones conscious and unconscious processes.
一个定义将神经语言程序学(NLP)描述为卓越的研究。有人说,这是一套工具和信念,能够迅速扩大和影响情商(EQ)。有谁不想变的更优秀,情商更高呢?。
One definition describes NLP as the study of excellence. Some say it's a set of tools and beliefs to rapidly expand and influence emotional intelligence (EQ). And who wouldn't want to be more excellent or emotionally intelligent?
关于神经语言程序学的文献,它的方法和策略已经被翻译成多种语言,适应了各种各样的文化背景,并融入了无数的应用领域。它直接而深刻地影响着成千上万的人的生活,对他们的生活质量作出了积极的贡献。以不太直接的方式,它影响了好几亿人,就算没有好几亿,也有千百万人。
仅仅通过Tony Robbins,神经语言程序学(NLP)领域的一个专家,神经语言程序学(NLP)就已经惠及了超过5000万人。每年有成千上万的中国人飞往澳大利亚和美国等国参加Tony Robbins转型活动。学习神经语言程序学(NLP)或托尼·罗宾斯工作法的人遍布全球,他们经常称自己为人生教练、转型教练、NLP教练、关系教练。虽然他们并不总是被认可,但他们都热衷于帮助人们提升他们生活中的方方面面。
Literature on NLP, its techniques and strategies have been translated into many languages, adapted to a large number of cultures and integrated into countless domains of application. It has directly and profoundly influenced the lives of hundreds of thousands of people, making positive contributions to the quality of their lives. Less directly it has influenced millions, if not billions of people.
NLP has reached over 50 Million people alone by just one expert in the field known as Tony Robbins. Thousands of Chinese every year fly to countries like Australia and America to attend Tony Robbins transformational events. People studying NLP or Tony Robbins work are all around the world often calling themselves life coaches, transformational coaches, NLP Coaches, Relationship Coaches. Their not always accredited, but they are generally passionate about helping people upgrade various elements of their life.
在即将到来的工作坊中,我们将研究Tony Robbins和其他NLP专家使用的NLP元素,以增强我们与他人的关系。
In this coming workshop we are looking at NLP elements used by Tony Robbins and other NLP experts to enhance our relationships with others.
关于导师:About the facilitator for NLP Kunming:
导师-Adrian Cahill,在世界的好些地方因为他的NLP教学而被是众所周知。他是一名得到高度认可的教练同时在国际教练联合会(ICF)中担任领导角色,他一直致力培养职业教练意识。
Adrian Cahill 曾两次受邀在TEDx上演讲,一次在2013年,另外一次2015年。他创办了MOTIVATE上海,现在已经有90多位演讲者在为这个世界最大的城市之一鼓舞和创造真正的变化。Adrian Cahill会不时地访问中国的其他城市,他每年都要和妻子及两个孩子在昆明度过几个月的时间。他非常高兴今年十月首次在云南进行推广。要了解更多关于Adrian Cahill,请访问,www.adriancahill.com.
The facilitator, Adrian Cahill is well known in some parts of the world for his NLP and Coaching events. He is a highly accredited coach whom holds a leadership role with the International Coaching Federation (ICF) developing awareness of professional Coaching.
Adrian Cahill spoke on TEDx twice in 2013 and hosted in 2015. He founded MOTIVATE Shanghai which has now featured over 90 speakers to inspire and create real change in one of the worlds biggest cities. Adrian Cahill visits other cities in China from time to time and spends a couple of months every year in Kunming, Yunnan Province with his wife and 2 children. It is with great pleasure he will be facilitating for the first time NLP Kunming this October. To learn more about Adrian Cahill, feel free to visit, www.adriancahill.com.
更多关于神经语言程序学(NLP)的思考:
More reflections on NLP:
对Ralph S.来说,是NLP挽救他的婚姻和家庭完整性。它给了他工具,让他学会去调整自己的交流方式,以适应妻子无意识偏好的要求。Ralph和他的妻子现在在彼此的陪伴中找到了极大的乐趣,因为他们肩并肩为他们成长中的孩子提供成长环境。
Linda和John V.曾梦想有一个属于自己的孩子。经过大约十年的婚姻和大量的应用生育技术,他们丧失了信心。是NLP模式的深入应用成功地消除了对概念的无意识障碍。他们现在对他们两岁的可爱女儿有点疯狂,琳达几个月后将会拥有他们的第二个孩子,一个儿子。
George U.一直是一位敬业的老师——数学是他的激情所在,他怀着一种强烈的愿望,要把自己的热情传递给年轻人,为下一代打开形式思维的神奇大门。他因无法指导和激励学生而感到沮丧。为什么有些学生"得到了",而其他人却从来做不到?现在,他小心翼翼地校准,高兴地调整他的陈述,以适应学生精确的无意识学习策略要求,尽管他的工作还没有100%成功,但他正在实现他的梦想。
Cynthia D.有一个想法,她想把它带去硅谷。她直觉地知道她开发的东西接近"杀手级应用"。她缺乏自尊心,无法建立必要的关系来招募和组织她需要的团队,以便将自己的所做的转变为一家充满活力的高科技公司。在特定的个人变化模式的帮助下,她正在为一个非常有利可图的IPO做准备。
For Ralph S., NLP is what saved his marriage and the integrity of his family. It gave him the tools to learn to adapt his communication to fit with the requirements of the unconscious preferences of his wife. Both Ralph and his wife now find great pleasure in one another's company as they work side by side to provide the context for their growing children.
Linda and John V. had a dream of having a child of their own. After some ten years of marriage and a host of applied fertility techniques, they were discouraged. A deep application of NLP patterning succeeded in removing the unconscious obstacles to conception. They are presently more than bit crazy about their lovely daughter of two years and Linda is expecting their second child, a son, in several months.
George U. was always a dedicated teacher – his passion is mathematics and he carries a burning desire to pass his enthusiasm on to young people, to open the magic portal of formal thinking for the next generation. He was frustrated by his inability to instruct and inspire his students. How is it that some of the students "get it" and others just never do? He now calibrates with care, gleefully adjusts his presentation for the precise unconscious learning strategy requirements of his students, and while he is not yet at 100% success in his work, he is living his dream.
Cynthia D. had an idea she wanted to take to Silicon Valley. She knew intuitively that what she had developed was close to a "killer app". Her low self-esteem prevented her from making the necessary connections to recruit and organize the team she needed to transform her work into a dynamic high tech firm. With the aid of specific personal change patterning, she is now preparing for a very lucrative IPO.
报名工作坊请扫描下面二维码找到我们:
If you want to join the NLP Kunming workshop,contact us:
NLP Kunming Yunnan Province China
昆明启步健身信息咨询有限公司
Kunming Holistic Wellness Center
地址:云南省昆明市五华区新月花园A座1单元3202-KAIKIBU健康整合中心
电话:18008714642(中文/英语,en/ch)
---
"Freeing our body! Freeing our mind!"
"释放身体,释放大脑!"
---
了解更多关于费登奎斯,依莎兰按摩及身心灵成长内容,请关注我们的公众号。
(Link back to original article here) NLP Kunming
https://adriancahill.com/wp-content/uploads/2018/10/Kunming256x256bb.jpg
256
256
Adrian Cahill
http://adriancahill.com/wp-content/uploads/2017/11/LOGO-SMALL-300x64.png
Adrian Cahill
2018-10-10 23:48:40
2018-10-11 01:37:26
NLP Kunming Yunnan Province China